More details are coming soon.  For inquiries, please contact [email protected].
Digital Leadership Training Series:

The Power Duo of AI & Big Data
數字領導力培訓系列:

「數字經濟的雙引擎:人工智能與大數據」課程
WHAT IS THE POWER DUO OF AI & BIG DATA?  
Artificial Intelligence (AI) is only possible with big data, because we need a tremendous amount of data to "teach" or "train" AI systems. As its name suggests, AI has a form of intelligence of its own. It figures out which rules to follow based on the data that we feed them.
An AI application doesn't just do what it's been programmed to do. AI can go further than that. It responds to changing information and makes adjustment based on what it learns as it goes along. AI differs from supercomputers and other systems with powerful computing capabilities in one important way. AI systems are capable of not just computing, but actual learning — machine learning. The more data you give these machine learning networks and the more computational capability you give them, the better the result becomes because the results of previous machine-learning exercises can be fed back into the algorithms.
WHY IS THIS 

"POWER DUO OF AI AND BIG DATA"  

SO CRITICAL FOR THE SUCCESS

OF LARGE AND SMALL-TO-MEDIUM TRADITIONAL BUSINESSES IN THE DECADE 

OF 2020? 
According to Mckinsey, AI will potentially contribute 13 trillion (USD) to the global economy by 2030. Similarly, PWC estimated that the global GDP will be 14% higher in 2030 as a result of AI – the equivalent of $15.7 trillion, more than the current output of China and India combined. Both sources confirmed the AI is extremely significant to the growth and survival of any businesses on earth.
The Power Duo of AI and Big Data are quietly taking over the global economy. Today's more than $1 billion "unicorn" start-ups, such as Airbnb, Grab, Robinhood, Spotify and more, are mostly AI and Big Data driven platforms. These platforms make much of their money not by what they sell but by monetising the data captured in their platforms. AI will drive automation to all kinds of current processes in any industries. It will dramatically change the skill sets of current workforces. According to PWC, 30% of current jobs will be replaced by AI automation by 2030. Traditional product manufacturers, brands and intermediaries (or "the middleman") in all major industries are being seriously disrupted by AI with no doubt. Their competitiveness and even survival are highly questionable if they don't act now in a right way.
WHY DO BUSINESS LEADERS HAVE AN URGENCY TO FORMULATE A WINNING AI STRATEGY FOR THEIR COMPANIES?
The next generation of Fortune 500 companies in the decade of 2020 will be mostly AI driven. Not just tech giants like Amazon, Alibaba, Airbnb, Grab and so on are leading the world but also traditional industry leaders like Citi, Walmart, Tesco, Coca Cola, Volkswagen, GE, Ctrip, Haier and so on are fighting back and have their own "AI first" strategy.
AI is no doubt revolutionise the whole world but what it means to you as business leaders. According to Porsche Consulting, AI is a driver for top-line growth through new AI-driven or AI-enhanced products and services, improved customer experience through new personalised customer interactions, and efficiency through automation and optimisation of business processes or augmentation of human tasks. The early adopters of AI will have the first mover advantage and it will inevitably divide the leaders and laggards even further. Every business leader today, no matter they are in traditional companies or in the middle of AI and Big Data transformation, has an urgency to formulate a winning and sustainable AI and Big Data strategy for their company. Every business in fact will be an AI business in this decade.
The programme will prepare the participants to lead their organisation's AI strategy. This is a practical programme for business leaders and executives to learn how to transform their companies into AI and data-driven organisations that leverage the full potential of AI and Big Data. While the traditional industry leaders are trying to embrace Artificial Intelligence (AI) and Big Data as a strategic business enabler, majority of these companies are still struggling and are not generating the promised value of AI and Big Data. Customer centricity is the key for success. When developing AI/Big Data solutions, design thinking creates a clear vision and understanding of what the company is creating a solution for. Applying design thinking when building advanced data analytics solutions places a priority on what is needed from a human interaction perspective. The programme will empower participants to successfully kick-start and scale AI and Big Data across the organisation.
The participants will learn about how to formulate a winning AI and Big Data strategy for their companies. The learning outcomes of the programme are as follows:
Formulate a right AI and Big Data strategy and roadmap to drive your company to become an AI and Data Driven enterprise
Leverage on AI and Big Data to improve customer experience, grow your businesses and optimise your processes by studying successful and failure cases
Comprehend the core concepts of Machine Learning, Deep Learning and the key technologies of AI and Big Data
Utilise Design Thinking to unleash the power of AI/Big Data to enhance customer centricity
Empower decision makers and users to take actions based on AI/Big Data analysis and recommendation
Communicate effectively with data scientists and start-ups for sustainable AI/Big Data innovation and business growth
Propose and approve business proposals for AI and Big Data projects with industry ROIs and KPIs
And more
This programme is designed for business leaders and professionals in traditional industries. C-suite, to operations managers, technology officers and R&D in all industries are welcome.
No pre-requisite is required.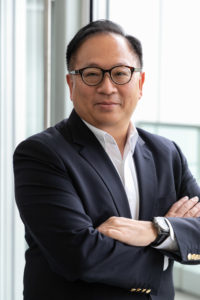 Associate Professor, CUHK Business School
Chairman of Dr. Charm & Co. and OpenCertHub
Former Chief Public Mission Officer, Cyberport Hong Kong
Former Executive: HSBC, IBM, Oracle and Jardine Pacific
Chief Judge, 2020 & 2019 HK ICT Awards – FinTech
FinTech Advisory Panel, Hong Kong Institute of Bankers