Digital Leadership Training Series:

Platform Monopoly & Breakthrough
數字領導力培訓系列:

「
平台壟斷與突破
」課程
What is a platform?  
What do these top companies like Alibaba, Amazon, Apple, Facebook, Google, Netflix, Tencent and Ctrip have in common? Apart from being the world's highest valuated businesses, they are the world's most influential platforms.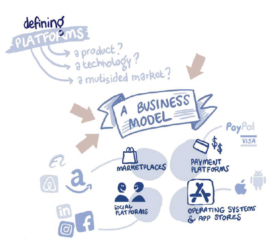 Source: https://www.launchworks.co/platform-strategy-illustrated/
By operating as open ecosystems, companies match suppliers of products, services, or content to consumers, and gain enormous value and market share.  These companies, known as multilateral platforms, act as intermediaries, connecting service providers and users to serve users of different needs.
Platform is disrupting all walks of life around the world and playing a key role in the success or failure of enterprises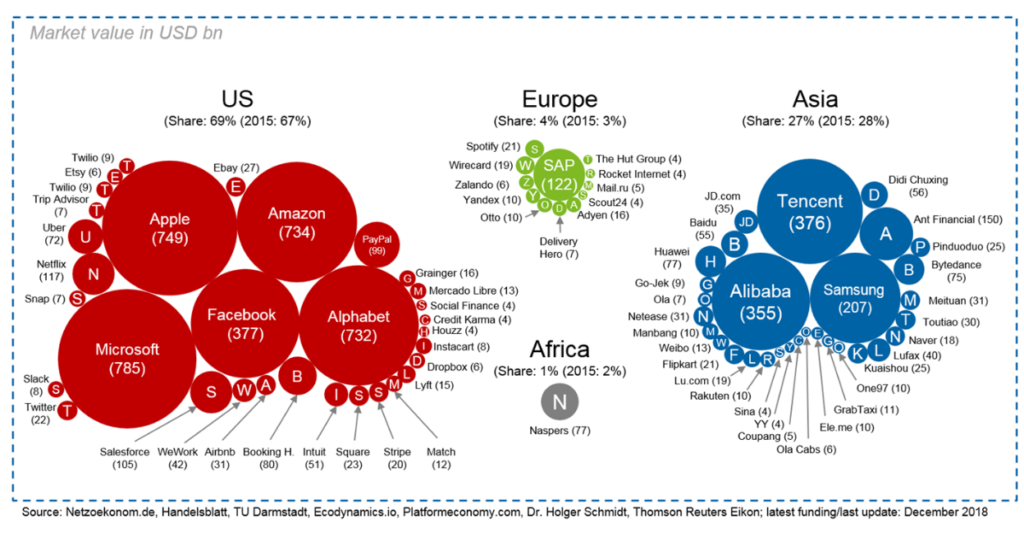 The next generation of Fortune 500 companies in the decade of 2020 will be mostly platform-based business.  Platforms, a near-monopolistic business model, are quietly taking over the global economy.  Today's more than $1 billion "unicorn" start-ups, such as Airbnb, Grab, Robinhood, Spotify and more, are mostly platforms.  These platforms make much of their money not by what they sell but by facilitating the interactions or transactions of others.  More importantly, they are experts in delivering great customer experience and monetizing the data captured in their platforms.
Traditional product manufacturers, brands and intermediaries (or "the middleman") in all major industries are being seriously disrupted by these platforms.  Their competitiveness and even survival are highly questionable if they don't act now in a right way.  Platform owner is on the driver seat while the rest are just the passengers with not much bargaining power on their pockets.
Why do business leaders have an urgency to formulate a winning platform strategy for their companies?
Building a successful platform like Alibaba, Amazon, Uber, Ctrip, have lots of challenges. There are countless ways to fail it. While there are many ways to seed users into a platform, the strategies all have the potential to backfire.
Source: https://www.launchworks.co/platform-strategy-illustrated/
Rather than having a feature mindset in traditional product or middleman businesses, business leaders in digital economy need to have a seeding mindset.  However, recruiting a popular user to kickstart the platform and draw other users can backfire if that user violates the platform's governance.  For instance, how well a driver in Uber's platform behaves on that Uber ride may cause a big impact to Uber's success.  Focusing on low prices or free services can backfire when users become accustomed to and anchored on that low price for the long run.  The list of challenges goes on.  Business leaders need to overcome these challenges or the platform will fail.  Every business leader today, no matter they are in traditional companies or existing platforms, has an urgency to formulate a winning and sustainable platform strategy for their company.
What will the course participants learn from the programme?
The programme will prepare the participants to lead their organization's platform strategy.  The participants will learn about where their company fits best within a platform ecosystem and formulate a winning strategy for their companies.
The learning outcomes of the programme are as follows:
Learn about the disruptiveness and dominance of the platform in the new economy
Use the platform to create value for customers and their ecosystems
Formulate platform strategies to compete effectively with other major platforms
Ways and best practices for transforming from traditional product companies to platforms
Build the right platform governance and sustainably develop the platform
Master the key technologies of the platform to build the advantage for the platform
This programme is designed for leaders in platform organizations or in the traditional firms that must compete with them.  C-suite, sales and marketing managers, operations managers, technology officers and R&D in all industries are welcome.
No pre-requisite is required.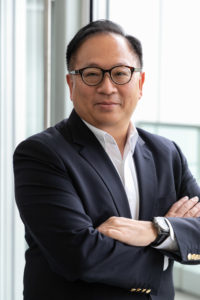 Associate Professor, CUHK Business School
Chairman of Dr. Charm & Co. and OpenCertHub
Former Chief Public Mission Officer, Cyberport Hong Kong
Former Executive: HSBC, IBM, Oracle and Jardine Pacific
Chief Judge, 2020 & 2019 HK ICT Awards – FinTech
FinTech Advisory Panel, Hong Kong Institute of Bankers