Digital Leadership Training Series:

Emerging Tech & Business Innovation Training Programme
數字領導力培訓系列:

「新興科技與商業模式創新
」課程
THE ERA OF DIGITAL ECONOMY
Every business is a digital business. Where are we now? Seven of the highest valuated companies in the world are tech companies. What is the secret recipe of their success? These leaders create successful business models one after another based on their customer centricity, innovation, entrepreneurship and collaboration capabilities. What can we learn from the leaders and the laggards? What is likely to be in the next 3 to 5 years? As corporate leaders in the digital economy, we need to master these capabilities in order to be stay relevant and competitive.
EMERGING TECHNOLOGIES AND APPLICATIONS
Emerging technologies, such as AI, Big Data, Blockchain and IoT, are no doubt revolutionizing the whole world. Leaders in major industries are being disrupted or replaced by new rivalries tech giants, start-ups and cross-border challengers. What are they and how are they different from each other? What values can they bring to customers and enterprises?
INNOVATION MANAGEMENT AND METHODOLOGIES
Knowing that Innovation is a must for survival and growth, what are the industry best practices, frameworks and tools that can be used to innovate? Most importantly, how we can create, select and scale our ideas to develop sustainable and profitable business.
Enterprises face serious organizational, political, cultural, technological and financial challenges when they innovate. How can enterprises cultivate intrapreneurship and tap into external innovation to sustain its competitions and strike for growth? What can enterprises learn from and collaborate with start-ups and their ecosystem?
The programme will prepare the participants to deal with disruptive innovations and the changing basis of competition in markets. Participants of this programme will learn the latest digital technologies and how the leading tech giants, start-ups and industry leaders have made use of these technologies to create viable and innovative business models. More importantly, the participants will learn why these leaders can meet their customers' needs and resolve their pain points better than their competitors including the traditional leaders in the markets.
The learning outcomes of the programme are as follows:
Analyze the digital divide for leaders and laggards
Understand major emerging technologies and their applications
Leverage on innovation methodologies to create sustainable businesses
Master how to cultivate intrapreneurship and collaborate with external ecosystem to innovate effectively in a corporate environment
CERTIFICATE OF ATTENDANCE
Certificate of Attendance will be awarded to participant upon completion of the programme.
This programme is designed for business leaders and professionals in traditional industries. No pre-requisite is required.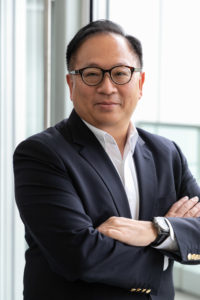 Associate Professor, CUHK Business School
Chairman of Dr. Charm & Co. and OpenCertHub
Former Chief Public Mission Officer, Cyberport Hong Kong
Former Executive: HSBC, IBM, Oracle and Jardine Pacific
Chief Judge, 2020 & 2019 HK ICT Awards – FinTech
FinTech Advisory Panel, Hong Kong Institute of Bankers
Major Topic
 1.  New Leaders and New Orders in the Digital Economy
–         Tech Giants and Platform Leaders
–         Start-ups and Unicorns
–         Cross-industry Competitors
–         Pioneers in Traditional Industries
 2. Emerging Technologies and Applications
–         The Power Duo: AI and Big Data
–         Blockchain: DLT, Smart Contract and Cryptocurrency
–         Mobility: IoT, API and 5G
–         Extended Reality: VR, AR and MR
 3. Innovation Management and Methodologies
–         From Ideas to Scalable Business
–         Lean Startup and Agile Management
–         Essentials of Business Model Canvas
–         Overview of Design Thinking & Crowdsourcing
4. Corporate Innovation
–         Challenges of Corporate Innovation
–         Critical Success Factors of Corporate Innovation
–         Intrapreneurship Approach
–         Open Innovation Approach