AI will bring human & machine to work closely together. Rather than just Automation, Augmentation is the real thing that we need to adapt to in this decade. Digital Colleague will be working with us perhaps managing and supervising us. In the professional world, that is no exception and excuse. Accounting and Finance industry is facing the same challenge. Digital Accountant is emerging & becomes a must for all in the industry.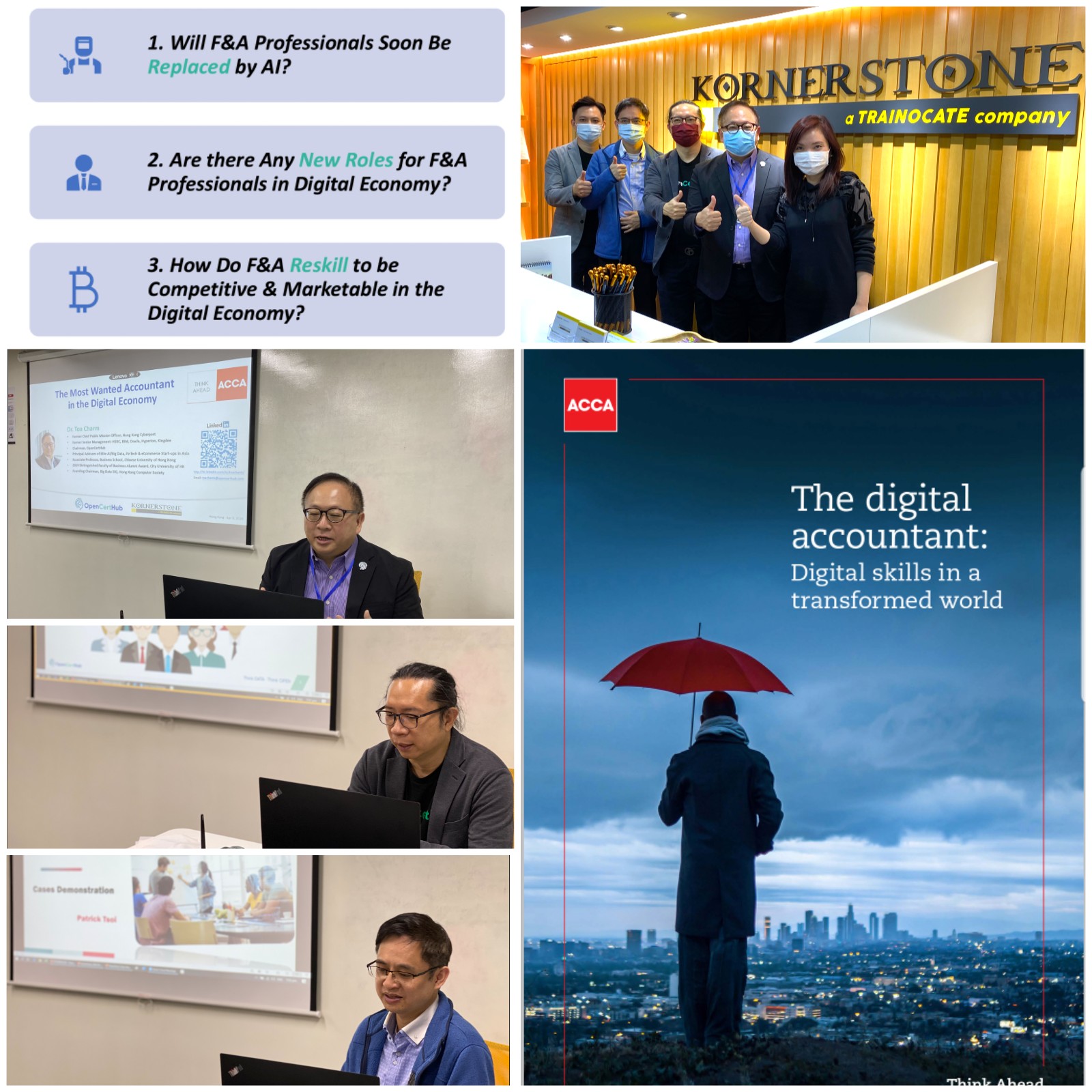 We have delivered a CPD webinar today to ACCA members on the topic "The Most Wanted Accountant in the Digital Economy". Hundreds of accounting & finance (F&A) professionals participated. We have lots of respect to the learning attitude of our fellow ACCA's members during the challenging period of the Coronavirus. We started the forum with 3 critical questions that every F&A professional needs to have serious thoughts in the Digital Economy.
Will AI replace F&A professionals? How bad? How soon?
Are there any new roles for F&A professionals? If yes, what are they?
What & how should F&A professionals reskill themselves so they can continue to be relevant & capable of taking up the new roles in the Digital Economy?
Daniel Yuen shared his view on Citizen Data Scientist & why F&A professionals need to strengthen their Data Literacy. Patrick Tsoi then demonstrated how Open Sources based big data tools can make a huge difference to visualize & manage Big Data from the traditional Excel and BI tools. Thanks to both.
Appreciate ACCA HK to lead the Digital Transformation for and bring in innovation to the Accounting & Finance industry in Hong Kong. I have been collaborating with the team since 20+ years ago. Two of the photos below were taken in the panels of two ACCA annual conferences 15 years in between. Amazing that both HSU President Simon Ho and I were in both panels. What a great memory. I hope I could continue to support it in the next 15 to 20 years. Thank you so much to ACCA.
Appreciate ACCA, Kornerstone Catherine Chan & OpenCertHub Andy Kwok to co-organize this webinar. Kornerstone provides Citizen Data Scientist training courses while OpenCertHub provides examinations to certify big data, AI & open-source talents.